What Roommates Can Do to Help
As a roommate, you are in a unique position to prevent suicide. You may know your roommate better than most people, even better than his or her parents. You also could be the first to notice any changes in behavior that could indicate that your roommate is thinking about suicide. This fact sheet will help you recognize the warning signs and understand how to help your roommate if you think that he or she is struggling with mental health or considering suicide.
What Are Some Warning Signs? 
The following are some changes that can indicate mental health concerns or that your roommate is considering suicide: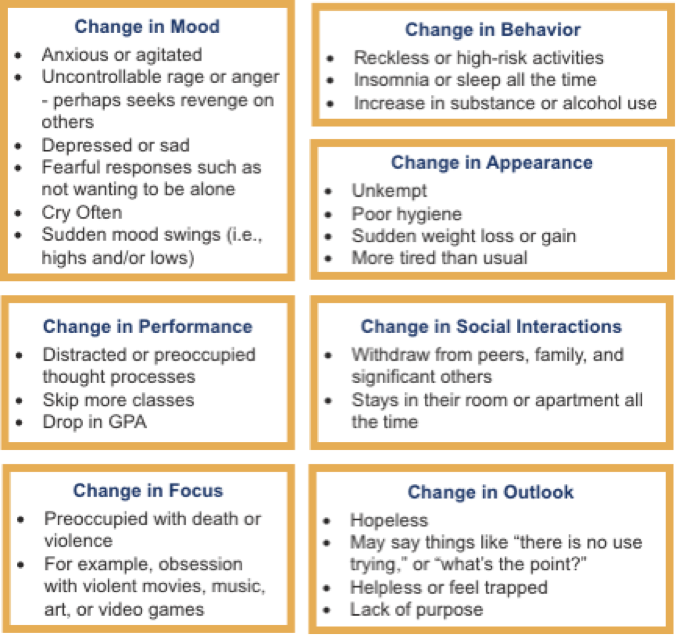 How to Talk to Your Roommate
You have choices if you notice some concerning changes in your roommate (such as those listed above). First, you can call Counseling and Psychological Services (CAPS) at (609) 771-2247 to get some professional advice; second, you can talk with your roommate about your concerns; and, third, you can bring up your concerns with your community adviser (if you are an undergraduate).
Although you may not be able to solve your roommate's problems, talking with your roommate will show that you care, that your roommate is not alone. If you do decide to talk with your roommate, below are some tips on how to make your conversation helpful and caring.
Talk in private
Talking with your roommate about suicide will not push him or her to commit suicide.
Don't be afraid to be wrong.
If you seek help and it turns out your friend is not suicidal, it is okay because warning signs for suicide are also indicative of problems with drugs or alcohol, intimate partner violence, or depression.
Express your concern in a direct, straightforward way
Focus on specific behaviors that are causing your concern.
You may have to be persistent to get your roommate to talk.
If you believe that the student is suicidal, explicitly ask, "Are you thinking about suicide?" If your roommate answers yes, take immediate action. (See below.)
Listen and avoid criticizing or judging your roommate's behavior
Be kind and respectful and keep your tone and remarks compassionate.
Take what is said seriously.
If your roommate expresses a desire to hurt or kill himself or herself, seek help immediately.
Be especially concerned if your roommate has gained access to a means of suicide (such as a gun or pills) and/or your roommate starts to give away prized possessions.
If this happens, do not leave your roommate alone and seek help immediately.
Do not promise to keep what is said a secret
This will prevent your roommate from being betrayed if you ask for assistance from a healthcare professional or resident adviser.
Discuss the services provided at the Emory Counseling Center 
Emphasize that the services are confidential and free for all students.
Provide your roommate with the referral information provided in this document.
Follow up with your roommate
Ask your roommate if he or she did seek help and if it was effective.
If your roommate did not get help, talk with your resident adviser or with professionals at Counseling and Psychological Services about what to do next. The number is (609) 771-2247.
Take care of yourself
It is not your sole responsibility to fix your roommate's problems. You must take care of yourself first and foremost.
Do what you feel comfortable with. If that is talking directly to your roommate, then do that. If it is seeking advice from a community adviser or a professional at CAPS, then do that.
Do not sacrifice your own well-being to "fix" your friend.
When to Take Immediate Action
If your roommate has any of the following warning signs, you need to take action immediately:
Threatens to or talks or writes about suicide or wanting to hurt himself or herself.

For example, your roommate may say or write, "You will be better off without me," or "I'm just going to end it all."

Looks for ways to kill himself or herself.
Expresses having a suicide plan.
Prepares for death by making final arrangements, writing a will, or giving away prized possessions.
In this situation, do the following:
DO NOT leave your roommate alone and seek help immediately.
Call 911 or (609) 771-2345 and the TCNJ Campus Police dispatcher will assist you.
If you are off campus, call 911 and tell the dispatcher that your roommate is a danger to himself or herself. You also can contact Capital Health Emergency Services (24/7) at (609) 396-HELP (4357). NJ Hopeline is also available 24/7: (855) 654-6735.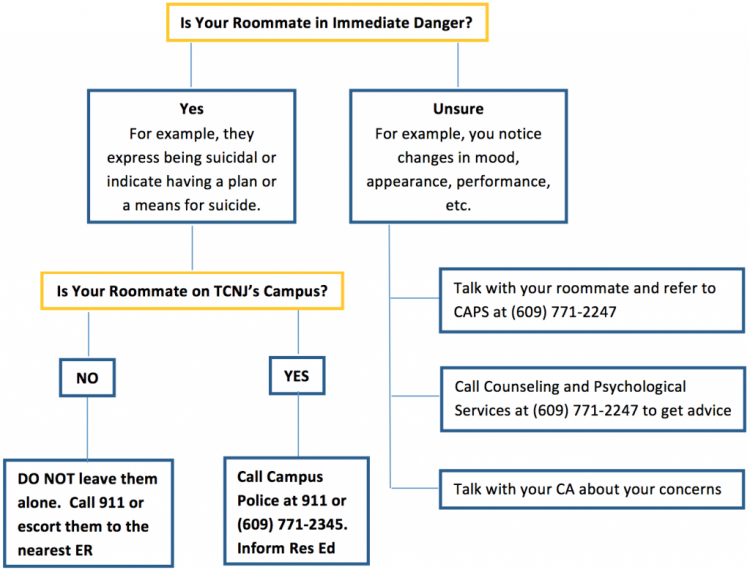 Student Support Numbers and Mental Health Services
TCNJ Counseling and Psychological Services
(609) 771-2247
(609) 771-2700
Emergency Numbers
(855) 654-6735
National Suicide Prevention Hotline
1.800.273.TALK (8255)
The Trevor Project (LGBTQ)
(866) 488-7386
(800) 273-8255
911 or nearest emergency room